The Team
Diamond Tennis Academy is a coaching company with the goal of providing quality coaching for all.  To deliver quality coaching for all we need a rock-solid team with the drive to be the best version of themselves. We are committed to developing our people and helping them grow. This is through training but also through working on a high skilled team where team members help each other progress. This will enable us to make a positive long-term contribution to our community and with that career development, increased responsibility, and higher pay.
Our latest job opportunity
The Coaching Team

Director of Tennis & Head Coach
Sena Tengey
T: 029 20689382
E: [email protected]
The founder of Diamond Tennis Academy has been coaching since 2000. Sena's experience in the sport and passion for getting people to play tennis led to the formation of Diamond Tennis Academy in 2006 – after more than a decade, the academy's links and initiatives with the local community are prominent and continue to develop.
Sena holds a UKCC Level 5 award (Master Club Coach qualification), an Accountancy and Management degree from Cardiff University and a Professional Practise in Tennis Coaching Management degree from the University of Northumbria. A frequent competitor in tournaments in the South Wales area in his younger days, Sena still enjoys a game of singles.
Instructor: Nabeel Iqbal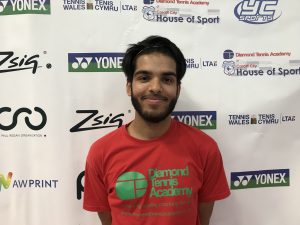 Nabeel is an LTA accredited Level 2 Coach, with more than 4 years coaching experience. Nabeel has been playing tennis since he was 3 years old, and has competed in tournaments at both club and county level.
Outside of tennis Nabeel studies Engineering at Cardiff University and is a keen long distance runner.
Coaching Assistant: Will Iles
Will holds a LTA Level 1 award and is fully accredited. As a child I was always pushed into football and rugby throughout school. However, while I enjoyed playing both I never found a love for either. It was much later in school where I attended an open day at a local tennis club. While it didn't come naturally to me, I kept attending and improving and found a love for the sport. This is the main reason I coach, to bring tennis to more children and give them the chance to fall in love with tennis as well.
Working at Diamond Tennis Academy is amazing, I get to bring tennis to children and adults from diverse backgrounds and help them improve their skills. On top of this, the whole team are friendly which makes me want to come to work even more!
Coaching Assistant: Abbie Lake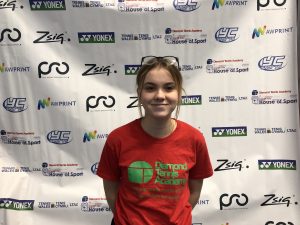 Abbie holds a level 1 coaching qualification. I have been playing tennis since the age of 5, competing in many tournaments over time. I have been volunteering in tennis since the age of 12 and at the age of 15 was a finalist of the Tennis Wales young volunteer of the year award. I have always been passionate about tennis and enjoy sharing my love for the sport with others.
Outside of tennis I am entering my second year at sixth form, I spend my spare time singing and writing my own songs for social events and volunteering as a girl guide leader.
Coaching Assistant: Dafydd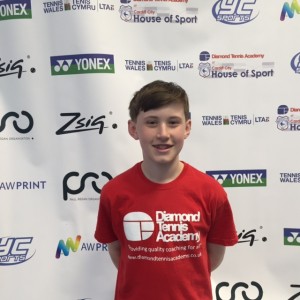 Dafydd took and passed his  UKCCL1 coaching assistant course in 2019.
Tennis Leader: Billy
---